Author: Ronan Gaine
With Donald Trump and the media nowadays, it seems as though civil protest only started in sport with Colin Kaepernick taking a knee during the national anthem in 2016. In reality, civil protests have been a part of sport for over 100 years.  This article examines 10 incidents of civil protest across the world of sport.
1906 Olympics- Peter O'Connor flag protest
Athletes have often employed ceremonial moments to take a stand. At the 1906 Olympics, Irish long jumper Peter O'Connor protested after his second-place finish was honoured by the raising of the British flag. Wishing to only represent Ireland and not the whole of Britain, O'Connor scaled the flagpole and waved the Irish flag himself while fellow countryman Con Leahy guarded him at the foot of the pole.
1935- Nazi salute at Germany vs England
1967-Group of top African-American athletes gather to support Muhammad Ali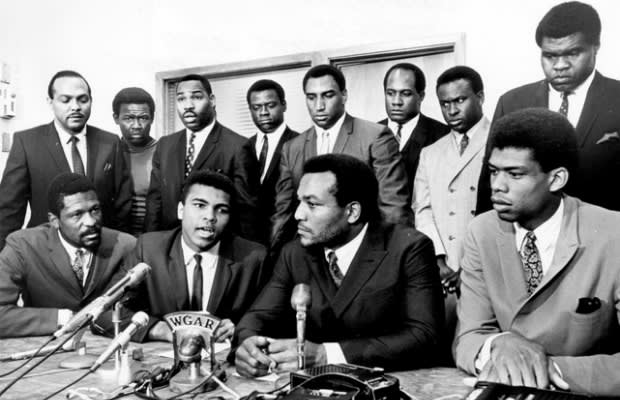 1968 Olympics- Tommie Smith & John Carlos black power solute 
1969- Curt Flood challenges Major League Baseball
1980 Olympics-The infamous boycott
After the Soviet Union invaded Afghanistan on Christmas day 1979, President Carter made the decision that the USA would boycott the 1980 Olympics as a protest against them, 61 other countries followed suit. This would also lead to a number of countries boycotting the 1984 Olympics in Los Angeles.
2004-7th inning stretch war protest
2012-Solidarity protest for slain teenager Trayvon Martin
2014- "I can't breathe" protest
2016- Colin Kaepernick causes a storm by refusing to stand for the national anthem